The MPD dataset mainly covers complex road scenes, such as road shadows, camera overexposure, rain, fog, lane pollution, etc. The stability of the autonomous driving algorithm is precisely tested by these scenes. Algorithms that perform well on other related datasets may not perform well on MPD, whereas algorithms that perform well on MPD will be more likely to have strong adaptability in real scenes. Researchers in the field of autonomous driving are welcome to evaluate the performance of algorithms based on MPD!
Metrics for segmentation
For segmenation, we will evaluate accuracy by [A New Performance Measure and Evaluation Benchmark for Road Detection Algorithms].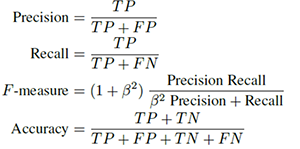 For methods that output confidence maps, the classification threshold τ is chosen to maximize the F-measure, yielding Fmax:

The average precision(AP) will be defined by different recall values r:

Both AP and Fmax will be consider as the measurement for us to evaluate your algorithm. The full information for this content will be on our paper.
Road



Method

Code

Moderate

Runtime

Environment

Article
1

PC-CNN-V2




95.20%

0.5s

GPU@2.5Ghz



2

F-PointNet




95.17%

0.17s

GPU@3.0Ghz



Lane line



Method

Code

Moderate

Runtime

Environment

Article
1

PC-CNN-V2




95.20%

0.5s

GPU@2.5Ghz



2

F-PointNet




95.17%

0.17s

GPU@3.0Ghz